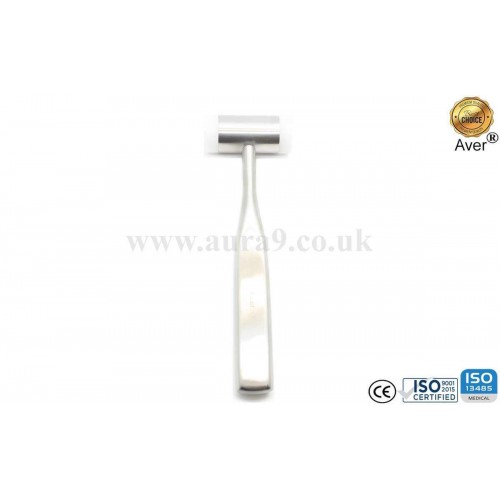 Mallet, Large Dental Surgical Mallet Hollow Handle for Oral Surgery
Brand:Aura9
Product Code:AV047
Availability: In Stock
Mallet, Large Dental Surgical Mallet Hollow Handle for Oral Surgery
Dental Surgical Mallet makes possible to prepare implant sockets by splitting and expanding the bone with minimal bone loss. It provides strength and durability. Its unique Handle Shape creates less force on tooth, reducing chance of tooth fractures. Our Aver® Large Dental Surgical Mallet Hollow Handle increases the chance of success, even in high-risk cases. Its application allows bone preservation even in case of teeth and roots extractions and can be well combined with other surgical techniques.
Aver® Large Dental Surgical Mallet Hollow Handle is used for:
• Bone tissues surgery when it needs to be transformed or removed.
• Multi purposes in implant dentistry and oral surgery.
• Bone preservation even in case of teeth and roots extractions.
Other Specifications:
Material: Stainless Steel
Rusting Prevention Procedure: Passivity
Ultrasonic Cleaned: Yes
Polished: Yes
Tests Performed: Boil Test, Performance Test, Shape Test
QC Passed: Yes
Bulk Orders:
Products can be ordered in bulk. For bulk orders, select items and then submit it to Bulk Inquiry Form. We will respond back as soon as possible.
Manufacturer and distributors for High Quality Dental Products. Top Quality Medical Grade Surgical Stainless Steel.
Postage:
Free Postage and Packaging for all UK Mainland Customers.
For Overseas postage check final calculated price before check out It varies according to your World Zone. Customer is liable to pay any local duty or taxes in their countries.
All products, subject to availability, will be dispatched within 24 Hours following the receipt of order.
Returns Policy:
We strive to provide excellent service to all our customers. All products undergo thorough quality checks before being dispatched.
We accept returns in the event of a Faulty / Damaged item delivered. The Item must be returned within 7 days from purchase for UK Customers and within 14 days for Overseas customers. If you are unhappy with your purchase, before returning the item email us complete detail of fault or damage along with the picture which clearly shows your concern.
Refund will be issued after receiving and inspection of item. Items which have been used will not be accepted for return
Write a review
Note: HTML is not translated!
Rating: Bad Good
Enter the code in the box below: